This 1 sentence can quickly bag you $600+ with my website design referral program!
Before I tell you this 1 sentence, I just wanted to let everyone know that the 1099 forms for 2021 have been delivered! If you've earned over $600 from my website design referral program in 2021, you'll be receiving your 1099 forms via email today and the physical form in the mail in the next couple of days.
It's an amazing feeling knowing that other people recommend my business while I'm helping people reach their dreams.
The proof is in the pudding
For 2021, I have paid out $6,015.75 in commissions through my website design referral program to people that referred others to my business. This is strictly a generous bonus payment that I give to ANYONE that sends business my way.
Here are some of my affiliates and how much they've earned so far with my website design referral program:
Krysta Jones (The owner of the THC Girls) – Has earned $1,787.50
AshleyLania (The co-founder of Power of CT) – Has earned $1,472.75
Anthony Bagley (A Kidd From New Haven) – Has earned $1,400
Vic Carter (Owner of Vicuals & Ruby Jean) – Has earned $1,283.50 (with another $850 pending)
And for those of you that haven't started pushing the Flawless brand… Let's start making some $$$ together!
So what's the 1 sentence that'll make you money?
"Reach out to my friend Mario at Flawless Website Design"
Word-of-mouth is extremely powerful, and for me, it's very important that each time a sale is made, the person recommending my service gets a cut of the profits. I think this feeling of empowerment is something every human being deserves to experience at least once in their life!
And what better way to make a living than doing what you love? I've been trying to live a lifestyle of freedom for years now and 2021 has been a really good year!
This requires very little effort, seriously like less than an hour a month. Each time you hear of someone that needs help with their website, mobile app, or business strategy, simply tell them to contact me. You'll be paid generously if the person you refer signs up for my services.
Why is word-of-mouth so powerful?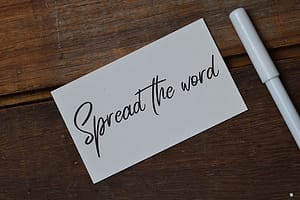 There are several reasons why word-of-mouth is so powerful. It's the reason why people read reviews before trying a new restaurant. The fact that the restaurant has other customers means it must be worth your time!
1. Word-of-mouth referrals are considered "hot" leads. This means that they are more likely to take action because they've come directly from a friend.
2. People trust other people's recommendations over advertisements and marketing materials. The word-of-mouth effect is also known as the "halo effect."
3. Referrals pave the way for long-term sales opportunities because customers trust their friends' judgment about a product or service. This reduces the amount of time it takes for a purchase to be made.
Don't send me people that are not ambitious and willing to take a risk.
I'm not here to babysit people or waste my time on low-quality leads! I want to work with those that are willing to hustle and set goals for themselves. I'm talking about the type of person that wakes up every morning with a burning desire to do something special! That's what makes my website design referral program so special. I don't work with everyone, I only work with real go-getters that want real growth.
If the person that you're referring to me is not that type of person, then my services may not be for them. My services are only for people that are willing to put in the work required to see their money grow month after month.
This means that you should try to qualify the people that you refer prior to sending them my way.
How do I qualify someone for the website design referral program first?
Chances are that the person you're thinking of referring is a friend, colleague, or family member. You know what they like and don't like, so it should be fairly easy to qualify them. In addition, there are several questions I always ask myself before referring someone to my program:
1. Do they have a great product/service? If they don't, refer people that do.
2. Is this somebody I see myself helping every month? Refer those you think might need my help more than once.
3. Make sure they have a good enough size budget to work on this project. My pricing for projects ranges from $5k to $10k to start. So if the person you're referring to me is looking for someone super cheap, then don't send them to me.
4. Are they willing to put in the work required for success? If they expect me to do everything while they sit back and watch, refer them somewhere else.
5. Are they ready to quit their day job or already running the business full-time? Refer those that are committed enough to make this a full-time business.
6. Do you think I can help them personally? I won't work with those that I know I can't help.
Once you've been able to answer these questions, then it's time to make a list of the people you'd like to refer and reach out to them! Don't be spammy and send a generic message. Personalize your approach and initiate a conversation first. This way, it's not all about the sale, it's personable and it can lead to a long-term business relationship!
Do keep in mind that I can only work with a handful of new clients each month. So I'm not interested in meeting with or working with everyone. I want to work with only top-tier clients who are willing to work hard and take risks.
How much money can I earn from your website design referral program?
I pay out commissions of 25% of the design total in my website design referral program. That means if you refer someone to me and I quote them $5,000 for a website, you'll earn a whopping commission of $1,250. If you refer someone and they pay $10,000, you'll earn $2,500.
Just by saying 1 sentence. You don't have to pitch the sale, that'll be my job. All you have to do is say "reach out to Mario" to make my website design referral program work for you.
How do you send the money to me after I've earned a commission?
You'll be paid via PayPal on the "launch date" of the new website. This is, on average, 3 to 4 weeks after the agreement signing.
For example: let's say you refer someone to me on January 1st and they schedule a call for January 4th. They sign up and pay the initial invoice on January 5th with an estimated launch date of January 26th. If everything goes smoothly (which it almost always does), you'll be paid your commission on January 28th, after the launch date payment has cleared.
My website design referral program is changing lives for the better
I find it incredible how much power we have to change our lives by simply influencing other people's decisions.
That's why I created this website design referral program in the first place because I know precisely how effective word-of-mouth can be to spread a message or a business opportunity.
I hope y'all recognize the potential in what I'm offering because my goal is to give everyone that same empowerment and financial freedom that I've experienced!
So, if you're willing to take part in this amazing journey with me, I'll show you exactly how to make money just by saying "reach out to Mario". Seriously, it's that easy. If you want to take part in my website design referral program and want to earn some easy money, shoot me an email at [email protected]. Let me know exactly how you can help and we can get this thing started!
PS: If you do not want to participate in the website design referral program, but still want to work with me, just let me know. I'll be more than happy to create a custom proposal for you and see what I can do for you.